Flexible panel storage system for maximum Swiss woodworking competency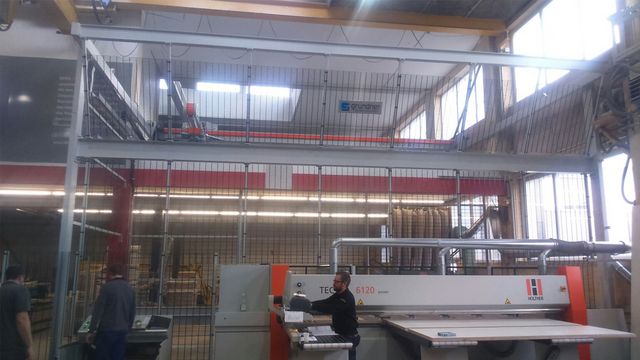 Alpiger Holzbau AG [Alpiger Woodworking Co.] in Sennwald in the Canton of St. Gallen, Switzerland, is a quality conscious, regionally active, state-of-the-art woodworking company. This future oriented carpentry shop offers holistic solutions in the areas of system construction, facades, windows, roofing and interior finished. Its reputation as a state-of-the-art company results from its use of high quality, ecological materials as well as cooperation with supplies guaranteeing high quality. Individual response to customer wishes, flexible planning and reliable completion are major planks in the business policy of Alpiger Holzbau AG.
The company has been working with HOLZ-HER machines since 2014 and has used a PRO-MASTER 7225 5-axis CNC machining center since that time. In 2016 they installed a TECTRA 6120 power horizontal panel saw in combination with a STORE-MASTER 5110 panel storage system. This panel storage system from HOLZ-HER ensures innovative storage layout and was adapted precisely to the space available in the Alpiger facilities. The integrated panel saw is located on the ground floor with the panels at an elevated level to allow space beneath for other types of use. The manipulator in the panel storage system is controlled by a computer to pick up the proper panels at the upper level and place them on the TECTRA 6120 power pressure beam saw on the ground floor for further processing.
This panel storage system has allowed Alpiger Holzbau AG to increase its capacity while reducing personnel and organizational costs and ensuring optimum use of the available space.