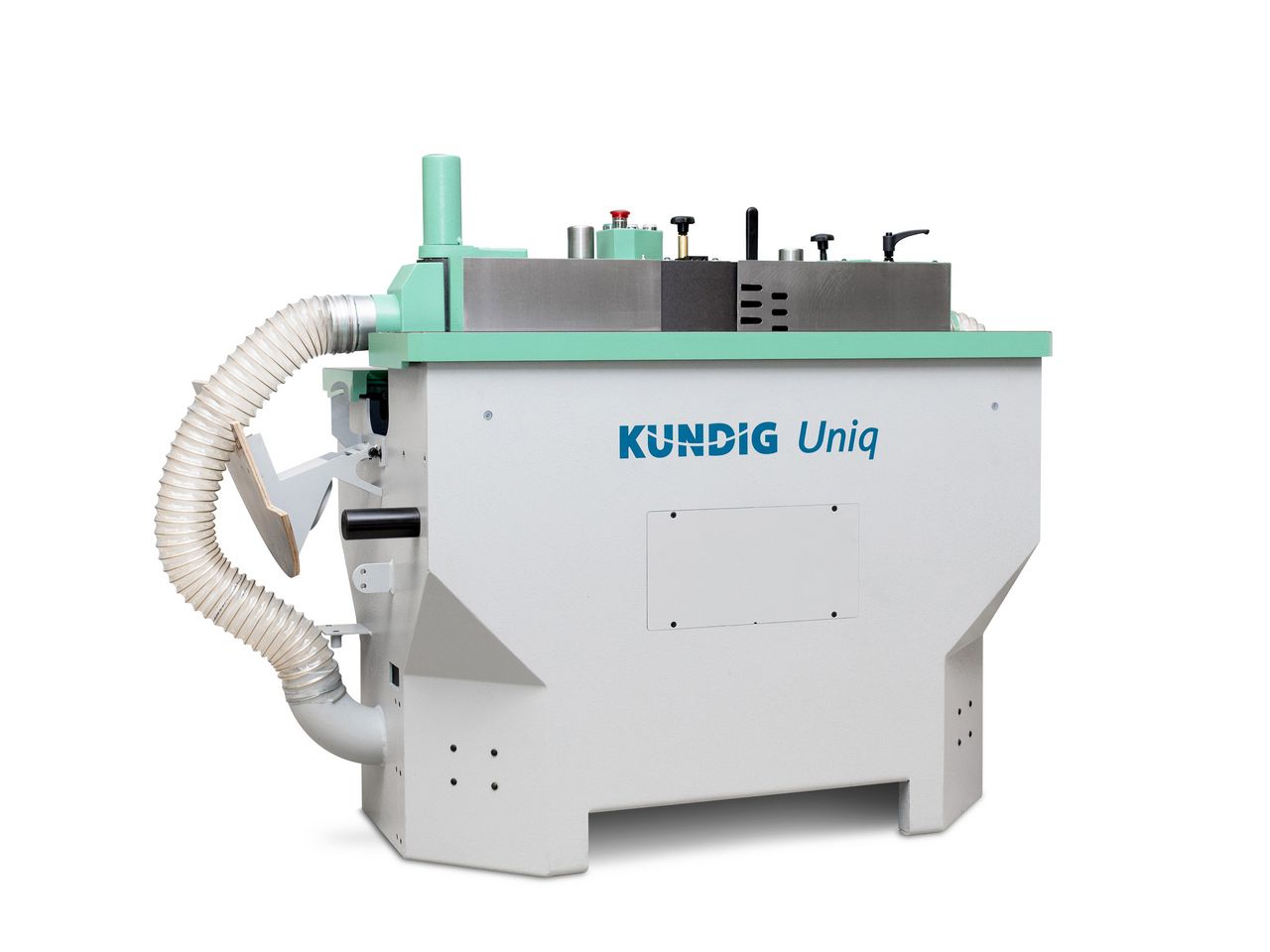 The patented KUNDIG Uniq Series is the absolute world wide top class in edge sanding. All Uniq edge sanders are characterised by their massive machine body. Because of the above average weight, the Uniq series of edge sanders are remarkably stable, even when working with very long and heavy workpieces. Also vibrations are suppressed almost completely which is an important factor in high precision edge sanding. The oscillation feature works differently than in common edge sanders and doesn't involve tilting of the drive rollers. In fact, the Kündig Uniq's whole sanding unit assembly moves up and down with an oscillation stroke of 90mm/3.5 inch - the sanding belt is utilised more evenly, constantly adjusting the table is needless - the working height stays fixed. The Uniq series offers a wide array of practice-oriented features: It has a heavy cast iron working table on one side for solid wood sanding, along with a similar one on the other side for veneer sanding, they can be used simultaneously. The height adjustment and the tilting (up to 45°) of the sanding unit assembly are motorized and no adjustment of the working tables is required. The Uniq-S model adds an upper pressure beam with conveyor. It's much easier to pass the workpiece along the sanding belt and sanding of production batches is a breeze. Getting "wavy" or dented edges is almost impossible.

Sanding of solid work pieces

Sanding of veneered work pieces

Sanding of inner curves

Sanding of outer curves

Sanding of angular edges
integrated precise feeding system for long, narrow and very small work pieces

4 independent sanding stations

patented tiltable main sanding unit (45°)

no table height adjustment necessary when tilting the sanding unit (patented construction)

full utilisation of abrasive belt and graphite pad by programable oscillation of entire sanding unit

Very big oscillation stroke of 90 mm / 3.5 inch

heavy cast iron construction

highest possible sanding precision

most reliable edge-sander on the market

easy and intuitive operation

36 months warranty
Technic Flash – Lacquer Edge Sander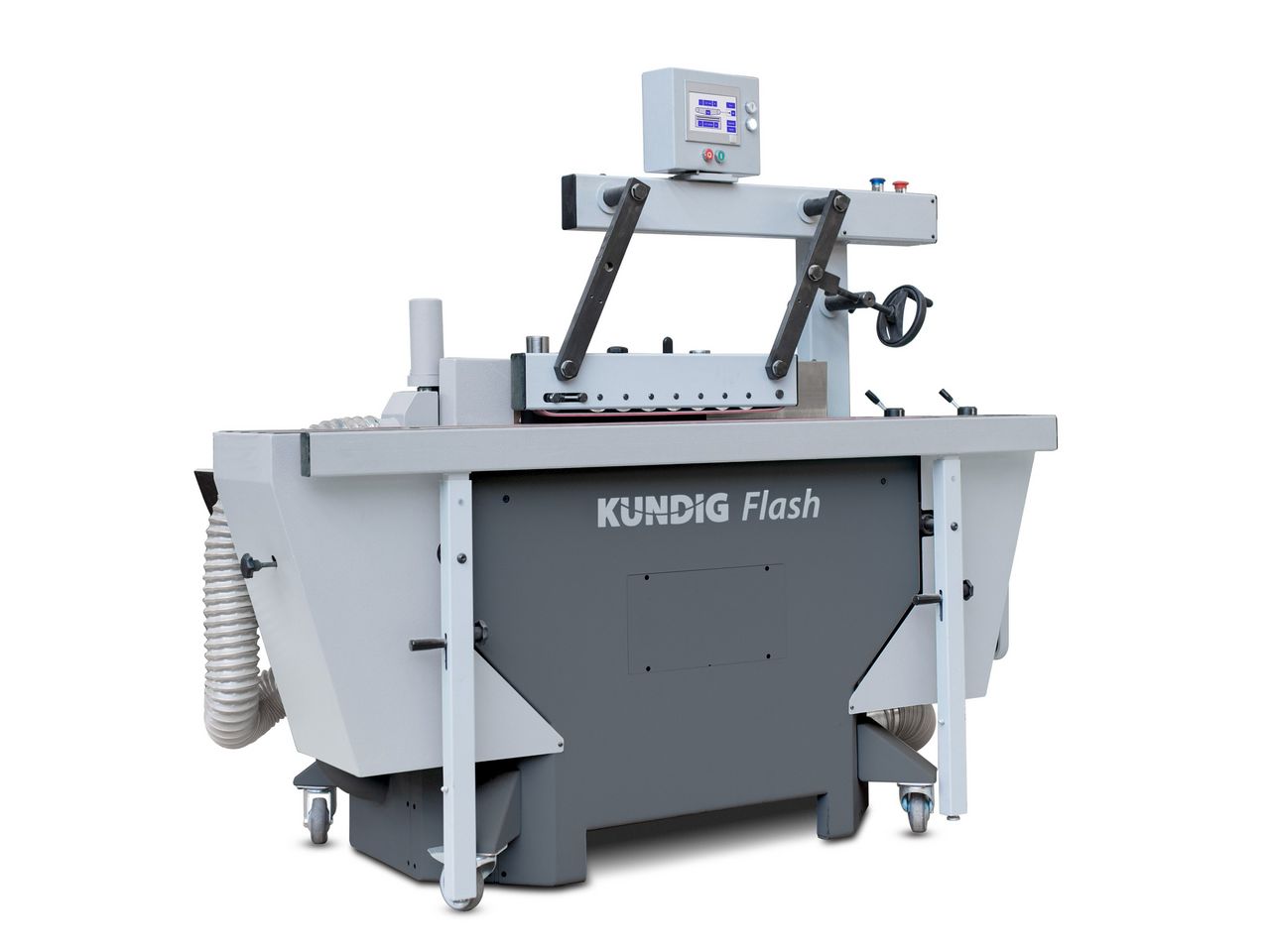 Kundig Flash is a versatile edge sander also capable of sanding lacquer edges. It is the only edge sander with an actuated sanding pad similar to wide belt sanders.
This electronically controlled, pneumatic pad is spring loaded and adheres to those delicate high gloss edges smoothly. Its activation can easily be accelerated or delayed in order to prevent rounded or damaged corners. The infinitely variable conveyor belt and sanding belt speed allow for a perfect fine tuning to the lacquer that is used.
Sanding of lacquered work pieces

Sanding of solid work pieces

Sanding of veneered work pieces

Sanding of inner curves

Sanding of outer curves

Sanding of angular edges
PLC controlled with touch screen

Pneumatical actuated sanding pad with sanding pressure adjustment for lacquer sanding and high gloss applications

Air jet abrasive belt cleaning

Steplessly variable abrasive belt speed

integrated precise feeding system for long, narrow and very small work-pieces

Pneumatic abrasive belt tensioning

4 independend sanding stations

Patented tiltable main sanding unit (45°)

No table height adjustment necessary when tilting the sanding unit (patented construction)

Full utilisation of abrasive belt and graphite pad by programable oscillation of entire sanding unit

Very big oscillation stroke of 90 mm / 3.5 inch

heavy cast iron construction

highest possible sanding precision

most reliable edge-sander on the market

easy and intuitive operation
Options for Kundig Edge Sanders
A wide variety of options is available. For example:
1 Semi round table for sanding curved pieces against the rubber covered driving roller
2 Extra table with mandrel and abrasive bobbins for external and internal shapes
3 Easy handling of large panels thanks to the telescopic support rail
4 Increased flexibility and movability thanks to four transport wheels
5 The upper feed belt (instead of pressure rollers) helps with the sanding of smaller components
6 For larger workpieces an additional lower feed belt can be provided
7 A special device simplifies the sanding of smaller components and glazing bars
8 The grooved inlet platen allows for the sanding of edges with overlapping veneers