HOLZ-HER EVOLUTION Series: Vertical and complete CNC machining in compact format
Unique features with the vertical CNC machines for wood processing - Your choice – perfectly matched to your requirements as EVOLUTION 7401, EVOLUTION 7402 or the more powerful version, the EVOLUTION 7405 4mat. The machining capabilities of the EVOLUTION Series vertical CNC machining centers are virtually unlimited. A selection of solid wood suction cups are available for machining solid wood frames and panels. Even curved solid wood parts, furniture fronts of MDF for painting, cutting and drilling of furniture fronts, engraving or complete processing of counter tops are further application possibilities for which the EVOLUTION series perfectly suits.
The vacuum-based clamping system (patent pending) is material-friendly and equipped with software-controlled, fully automatic suction cup positioning with hole recognition, allowing workpieces with lengths up to 1,600 mm to be machined on all sides without reclamping. This also guarantees extremely short cycle times and maximum precision even on long parts.
---
Here is what the HOLZ-HER EVOLUTION series offers
The Slovakian Company Tomko swears by HOLZ-HER
Since 1989, the Slovakian Company Tomko has been manufacturing mass-produced furniture from laminated and veneered panels. The present production capacity and the company's know-how are a guarantee for all business partners, who expect delivery and installation of high quality furniture at agreed times and quantities as well as flexibility in satisfying additional requirements.
Moreover, the furniture making shop provides its customers modern, cost-effective household furnishings tailored to their expectations by using custom processes and professional consultation during the furniture planning and production phases.
The company's demanding projects are made possible by its state-of-the-art machinery. The TECTRA 6120 panel saw from HOLZ-HER is ideal for fulfilling the customers' specific requirements. In addition, the cabinet making shop has a SPRINT 1329, also from the brand-name manufacturer HOLZ-HER. This machine was designed to meet the highest requirements in terms of quality and flexibility and offers many advantages. Among other things, the machine can be converted by program selection, without having to open the hood, so that it is always ready for production immediately. An EVOLUTION 7405 vertical CNC machining center completes the company's excellently equipped machine pool.
From planning and consultation to production, delivery, assembly and service, the TOMKO Cabinet Making Shop is a reliable partner for high quality furniture.
HOLZ-HER and Zottler: Styrian Connection
The Zottler Cabinet Making Shop in Styrian, Austria, handles all types of classic construction and furniture making work. Their operations depend on machines from HOLZ-HER for universal applications.
[...] As a master cabinet maker, Zottler builds high quality furnishings for residential dwellings, hotels and restaurants as well as complete furnishings for retirement and nursing homes and student dormitories for customers in Austria, Germany and Switzerland. "Recently we just completed 250 kitchens as well as the complete room furnishings for student dormitories in Graz's CoolCity [...] For the team with its 48 employees working like a small industrial mass-production shop in two-shift operation, failure of a machine would be disastrous. During the last 5 years a great deal of time has been spent developing efficient processes and a bundle of money invested in state-of-the-art machines to ensure that these processes run smoothly.
What brought you to HOLZ-HER? Zottler: "After the initial period nearly ten years ago, we were confronted with the decision whether to spend a lot of money to convert the old panel saw or just buy a new one right away. We made a foresighted decision. An existing contact recommended HOLZ-HER. And ever since that time, Zottler has invested regularly in new machines from the plant in Voitsberg, which is only an hour's drive, "because when it comes to our essential machines, we only want one company to contact, who needs to be in the vicinity and offer true Austrian quality." And if things ever get really critical, interjected Peter Gadi, Regional Sales Manager at HOLZ-HER and responsible for the projects at Zottler, we send a service technician to Passail immediately to solve the problem.
The extensive machine park from Holz-Her, now in use at the Zottler Cabinet Making Shop, covers all processing steps for mass-produced furniture, thus ensuring continuous work flow: [...]
Innovation makes the difference - EVOLUTION is the motor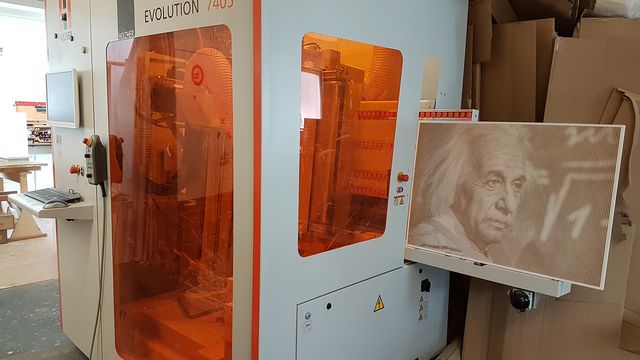 The Stöcklin & Schwab Carpentry Shop was founded in 1960. In addition to production of furniture for interior finishing, the company's fields of activity have also developed to include industrial furnishings and exhibition stand construction. Moreover the carpentry shop also produces furnishings for aircraft using special light-weight material and, in the meantime, thanks to their proximity to the Basel airport, are a certified supplier for equipping private aircraft with high quality furnishings.
The company is also dedicated to sound environmental policies and, since 1996 has reduced its use of fossil fuels to zero using state-of-the-art heating technology to process and produce heat from its own wood remnants.
The Stöcklin & Schwab Carpentry Shop is very committed, placing high social demands on the company itself. This is evidenced by their membership in a variety of associations. The carpentry shop is committed to a variety of local projects, having begun a cooperative educational project with the local junior high school. Within the scope of this educational cooperation, the carpentry shop sponsors project days at the junior high. Moreover, for over 10 years they have participated in the Germany-wide Girls Day, encouraging girls to consider occupations in typical masculine domains such as carpentry. In 2015, the carpentry shop sponsored a musical performed by the local high school, helping students to plan and build a complex stage set.
Proprietor Michael Schwab considers innovation to be a decisive, differentiating feature for increasing customer loyalty. The objective of the carpentry shop has always been to provide customers with products to meet the desired quality criteria at all times. And they plan to continue to satisfy customers with top quality products in the future.
For this reason proprietor Michael Schwab decided to invest in an EVOLUTION 7405 vertical CNC machining center from HOLZ-HER. The EVOLUTION 7405 offers complete CNC machining in compact format. Workpieces can be machined on all four edges without reclamping. The carpentry shop produces large orders in the field of wall cabinets and built-in cabinets of all types on the EVOLUTION. Moreover they use the Pic2Plate software very successfully. This allows light-reflex engraving with a relief effect for unique visual and tactile works of art. It offers a wide variety of applications on various panel materials, such as engraving for interior design in business and residential rooms, staircases and store furnishings.
Convincing features include the minimum space requirement and high flexibility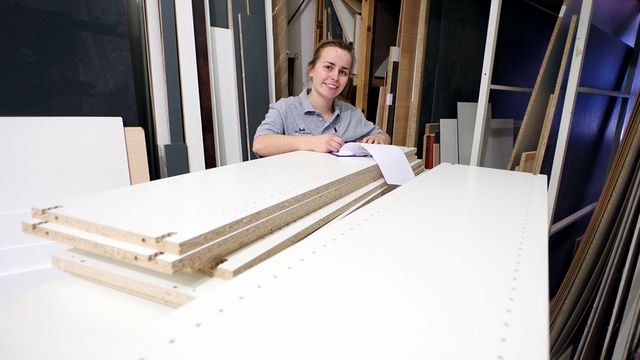 The Wendt Construction and Cabinet Making Shop was founded by Master Cabinetmaker Sönke Wendt in Wasbek in Schleswig-Holstein in 1990. Since its establishment, the cabinet making shop has continued to expand and has regularly invested in machines featuring state-of-the-art technology. In 2013 Torge Wendt entered the company as the "junior" partner. After vocational training as a master cabinetmaker, he completed a university curriculum in interior design, allowing the Wendt Cabinet Making Shop to refine its offerings in the area of custom furniture and interior finishing.
The cabinet making shop places maximum demands on the quality of the work performed by its joiners and cabinetmakers. It uses state-of-the-art CNC technology, optimized work processes and intelligent software to meet the demands of its customers on schedule and with maximum cost efficiency. The focus is on a combination of highly skilled craftsmanship and a distinct passion for cabinetmaking.
The company is very open regarding its acceptance of new technologies. For this reason, in 2015 they invested in an EVOLUTION 7405 vertical CNC machining center from HOLZ-HER.
The proprietors are very satisfied with the new machine. One of the primary reasons for this is its ease of operation, allowing them to start production immediately without extensive training. Above all, the software components, Hops and CabinetControl, are extremely intuitive, enormously facilitating production of cabinets and kitchen furniture. But the new CNC machine is also used for other areas of production. For example, they have already produced staircases and small batches of designer chairs with the EVOLUTION.
The vertical CNC machines from HOLZ-HER offer maximum flexibility while simultaneously requiring minimum space - a competitive advantage, which convinced the decision-makers at the Wendt Cabinet Making Shop.
Right through the ceiling - nothing is impossible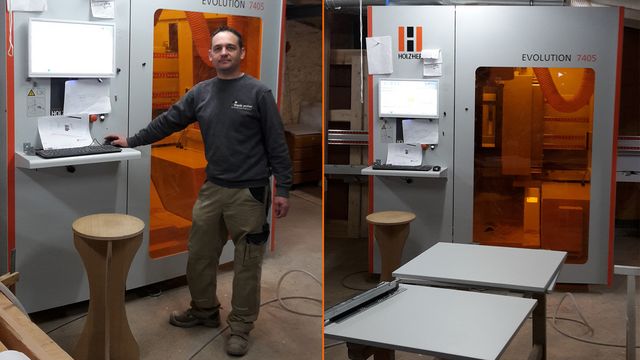 It was certainly an adventurous process installing the EVOLUTION 7405 CNC machining center in Frank Miller's Carpentry Shop in Vilsingen. Due to the limited space available, the master carpenter opened up the workshop roof in August 2016, to get the new CNC machine into the workshop in an very unconventional manner - through the roof with a crane.
The EVOLUTION 7405 allows work in a very limited space, and is therefore the perfect solution for Miller's Carpentry Shop. Now it is possible to perform precision CNC machining with only 5 square meters of space. Miller's Carpentry Shop even produces block frames with the new EVOLUTION 7405. The carpentry shop's line of products also includes production of custom furniture as well as stairs for private and corporate customers.
Perfect manufacturing cell with small space requirements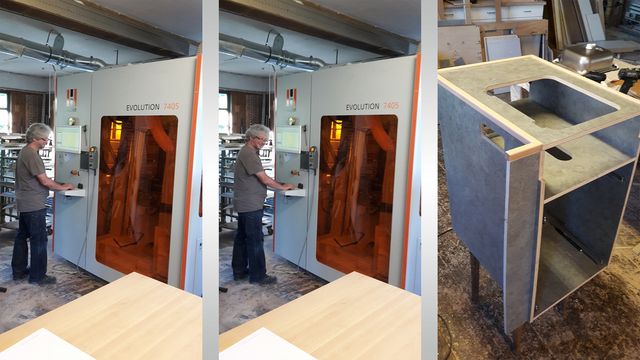 For over 15 years the joinery Schifer in Baiersbronn has been working with HOLZ-HER machines. In 2016 one more machine from HOLZ-HER has been added to the machine park of the joinery. A machining center EVOLUTION 7405 completes the already existing machinery consisting of a panel saw 1265 and an edgebander UNO 1302. The decisive factor of this investment was amongst others, that this new manufacturing cell can be used on less space and therefore meets the requirements of the joinery perfectly.
The joinery Schifer is specialized in the construction of interior furnishings for mobile homes. To enable perfectly equipped mobile homes, the demands on the quality of the machines are really high. The EVOLUTION 7405 allows complete formatting of the panel material and works extremely precise and reliable.
Effektive work with minimum space requirement: The Suske joinery invests in an EVOLUTION 7405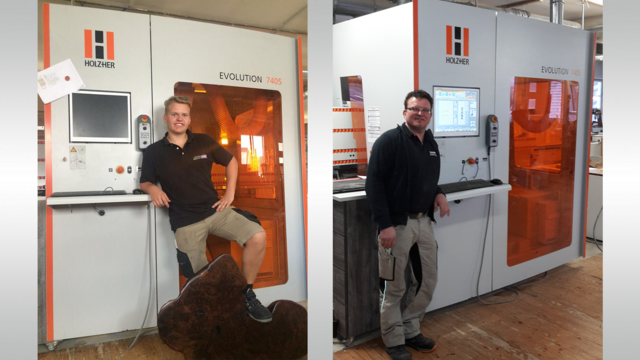 The Suske joinery in Emmingen-Liptingen, under the leadership of Martin Suske as of now produces with a machining centre EVOLUTION 7405 from HOLZ-HER.
The EVOLUTION 7405 offers absolutely precise edge routing on all four workpiece edges and thus complete formatting for panel material.
First-class results due to CLAMEX processing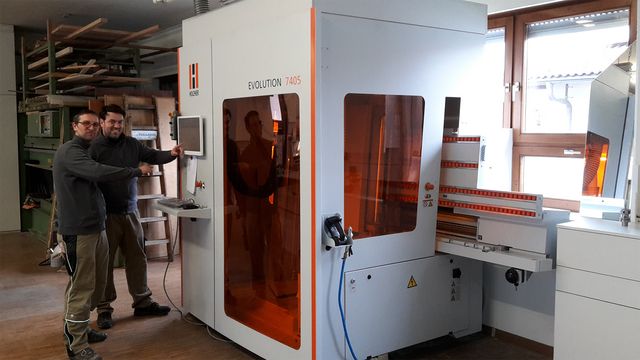 The joinery Pillmayer located in Bad Boll operates for a long time in woodworking under the leadership of Timo Kraus. With a lot of hard work and craftsmanship the small joinery became a well-known company. Based on experiences collected in over a century of existence, the joinery Pillmayer is still focusing on quality and customer satisfaction.
As of late Mr. Pillmayer invested in a new machining centre EVOLUTION 7405 from the HOLZ-HER company. Unique in its class, the EVOLUTION 7405 4mat offers absolutely precise edge routing on all four workpiece edges and thus complete formatting for panel material. The new "connect" version opens up completely new possibilities allowing pockets and grooves to be cut for connectors such as the P-System Connector from Lamello. Naturally, you can cut pockets for these - as well as other - connectors on all four edges as well as in the X and Y direction. For this purpose HOLZ-HER has supplemented the EVOLUTION to include an additional seventh tool changer location as well as the matching programming macro .
On growth course with the vertical CNC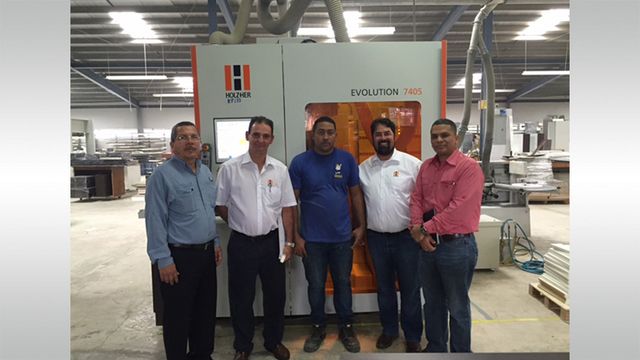 Komex International, S.A. is a company which originates to 100 % from Panama. It was founded in 1967 by Max Fux, an entrepreneur from Panama who initially had the idea to found a company that was to act as a supplier to the local large and small construction companies and metal hardware stores. Over time, the quality of the products which were sold to the clients became more and more decisive, so that Komex International S.A. turned into an important quality supplier for its customers.
Komex has been using wood-working machines from HOLZ-HER for several years. The cooperation exists since the year 2001 and Komex is very satisfied with the acquired products. The last investment done was the CNC EVOLUTION 7405, the vertical milling and drilling center, which allows enormous flexibility and increases productivity significantly. "The investment exceeds our expectations, the machine works daily and delivers very good results", admits Mr. Raul Toro. "We are well equipped to continue our strategy of growth."
Meet perfect quality requirements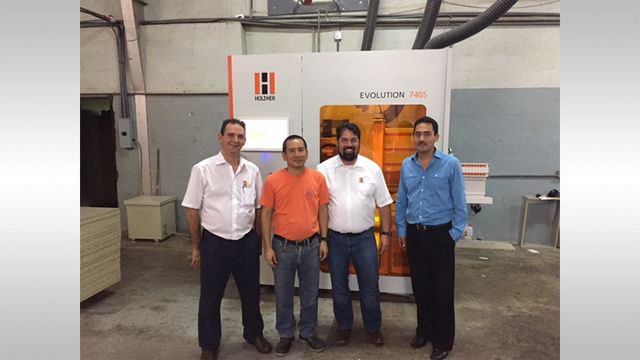 Also in Panama HOLZ-HER machines are used to achieve the best processing results out of wood and panels. Arquitectura Decorativa as part of the group "Empresas Bern" is one of our most prestigious customers in Central America. The production manager Eric states with full of conviction:
"In all our projects, we create conditions and scenarios that are geared towards enabling our customers to enjoy themselves in their home of one's own and enjoy it at any time. Our portfolio includes projects for apartments, commercial and tourist facilities in the city and also with proximity to the beach. All of Empresas Bern's properties are situated in privileged urban areas and are designed to meet the highest quality standards. For more than 3 decades we have established the latest architectural developments as well as attractive interior design and have been able to prove this in more than 135 projects so far.
The trust of our customers is the pillar of our growth. Thanks to them, we can continue our guiding principle: Panama is more valuable every day!
The ever-increasing demands of our customers for perfect quality have prompted us to look for a machine manufacturer of the highest quality. With HOLZ-HER, we have found a partner who is not only known as inventor of the edgebanding machine, and therefore enjoys an excellent reputation. Also in other product ranges, such as CNC and pressure beam saws, the products are of highest quality. We can therefore state, that the growth path that ARDECO has taken is also based on the HOLZ-HER machines. With the new vertical machining center EVOLUTION 7405, we can react very quickly and flexibly to new design requirements. This allows us a tremendous flexibility without which we could be very difficult in today's market environment."
HOLZ-HER product portfolio as central production pillar
Binni is one of the leading companies in the Republic of Kosovo in the area of interior furnishings such as doors and windows. Over 200 employees work in a production area of 18,000 m2 with a capacity of more than 10,000 doors per year as well as over 5,000 kitchens per year. Every year more than 50 new product are introduced on the market. The company exports to various European countries such as Switzerland, Germany, Belgium or the Netherlands.
Binni was founded in 1989 and represents the continuation of a family tradition. The business model combines traditional Albanian wood and furniture craftsmanship with innovative processes and technologies meeting international standards.
This international standard is guaranteed by use of highly varying HOLZ-HER machines, for a majority of the company's production. In addition to two horizontal panel saws, the company uses a vertical EVOLUTION 7405 CNC and a PRO-MASTER 7125 CNC machining center. A SPRINT 1327 edgebander is also in use. The HOLZ-HER machines are a significant production factor, which have become indispensable for this major company's everyday business.
The video pictured shows an except from Binni's image video. The complete video can be view at the Binni Youtube Channel.
Edgebanding, CNC & complete machine united in production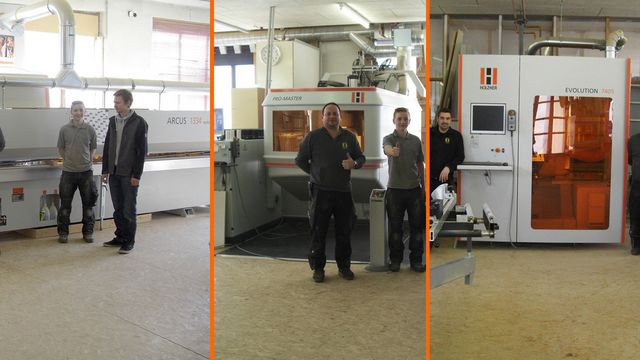 The Henss Interior Finishing Company in Feldkirch, better known as AUF&ZU (OPEN&CLOSE), is a satisfied HOLZ-HER customer, and, in the meantime, uses a majority of the production machines from the traditional manufacturer in Nürtingen.
The brand AUF&ZU is the result of decades of experience in interior finishing work. Starting with sliding doors, the idea was transferred to cabinet design. The cabinets have become rooms, where every inch of the room is used for a practical purpose. The AUF&ZU systems are planned to meet specific needs and visually matched to the tastes of the customer - without being subject to any limitations in design. Over 60 years of experience in the branch, has resulted in know-how appreciated by many regular customers.
All of the company's products are produce in their own shop. Since 2013 AUF&ZU has used HOLZ-HER machines for its production. Products already installed include a PRO-MASTER 7225 5-axis machining center as well as an EVOLUTION 7405 vertical CNC machining center for complete machining of all types of work. In addition to CNC machining, the company also used edgebanders from HOLZ-HER. Currently the predecessor model of the ACCURA is installed: an ARCUS 1334.
HOLZ-HER machines represent everything important for the AUF&ZU Company: Precision work, state-of-the-art engineering and use of European products, to produce high quality, enduring products for the customers.
India for advanced students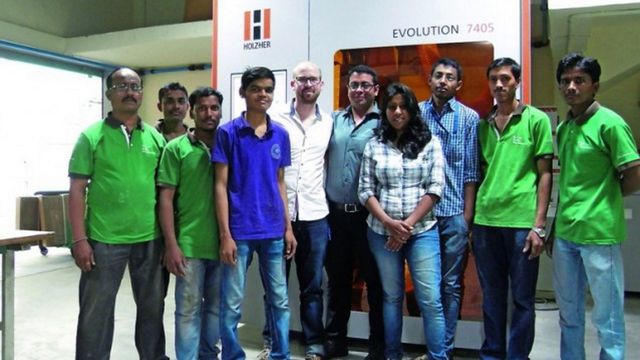 For two entire years Klaus Nusser supervised construction of a carpenter shop in India. He produces furniture for billionaires and lives among the poorest of the poor, often distraught, he always manages to get a hold on himself.
[...] Nusser's job is to plan a new workshop for Utturkar's Wood Culture. In India the company sells connectors, fittings and other furniture accessories from Germany and Italy – among others from Kesseböhmer, Grass and Hailo. To equip the showrooms, proprietor Tarek Utturkar, a master carpenter trained in Germany, also runs a carpenter shop. But the workshop, warehouse and office are spread over the sweep of a city with 5.9 million residents. Driving times of over one hour are not uncommon. Moreover the demand from the private segment is continuously increasing. "Up to now most high quality furniture has been imported", reports Nusser. "It's hard to image, how architects reacted, when they learned that the products were produced in India. We were completely equipped." The furniture and interior decoration department was therefore intended as a central pillar for the Utturkar Enterprise. When things get complicated, Nusser frequently operates the saw himself, building, for example, a desk for one of the world's richest men and furnishing his house with kitchen and bathes.
[...] On April 20, 2015 The BM editorial staff received an email: "My company is finished." The before/after comparison is impressive: While the old workshop was chaotic and dark, the new building make a friendly, structured appearance. It is filled with machines from HOLZ-HER: The vertical CNC Evolution 7405, the 6 m long 1327 Sprint edgebander and the smaller 1310 model. The Utturkar brothers purchased a relatively new Martin circular saw with digital display and took the Häusserman veneer press from the old workshop. The compressed air is supplied by a Kaeser screw-type compressor, while a stationary as well as a mobile exhaust system from Al-Ko provide for evacuation. The electrical tools from Makita are beginning to show signs of wear and an old Lamello milling machine is also present.
"Get me a CNC technician", demanded Klaus at last, because up to new he is the only one capable of operating the CNC machine. So he gets a man, who doesn't even know what a miter joint is. "This is India. It works", is the answer to the frustration of the German in the face of such incidences.
And now that everything is finished and running as planned, Klaus is beginning to think about staying in India for another year. But at the bottom line, his homesickness gets the better of him. His last email from Pune arrives on May 29, 2015: "I'm almost in the plane. Finally!" [...]
The R-EVOLUTION in the High Black Forest region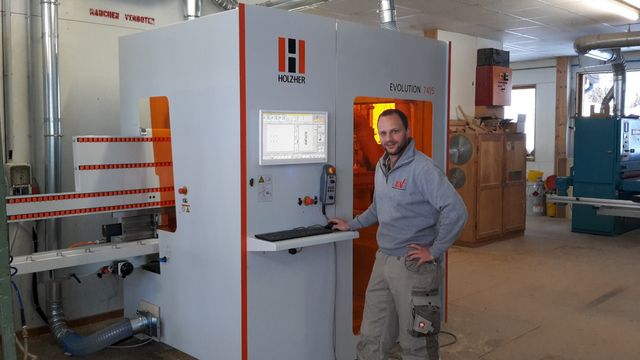 Even in the High Black Forest region HOLZ-HER is represented with its high quality machines. The Villinger Carpentry Shop, located in the southern part of the Black Forest, was founded in 1981. This traditional carpentry shop features state-of-the-art equipment for production to match the specific and individualistic desires and ideas of its customers. It addition to furniture, kitchens and doors, the scope of work also includes built-in cabinets and interior finishing work.
The Junior Partner Benjamin Villinger is convinced of the value of the new HOLZ-HER CNC machining center: "Now we are using a HOLZ-HER EVOLUTION 7405 for our production here in the High Black Forest - this is a true R-EVOLUTION." The carpentry shop's junior partner puts his money on state-of-the-art engineering. The possibility of complete machining is a particular advantage. Use of the 7405 from HOLZ-HER has now made it possible to format the work on all 4 sides. This reduces the cutting work and increases precision.
Optimum machining on all four edges of the work, leaves the carpentry shop with tear-free edges for further processing on the edgebander. This eliminates the need for special machines to drill holes for fittings, anchors and rows of holes, which significantly reduces the work load.
Universal use of the vertical CNC machining center and the virtually unlimited possibilities for machining the work allow the Villinger Carpentry Shop to offer their customers top quality in terms of shape, function and durability.
State-of-the-art machine engineering for Swiss precision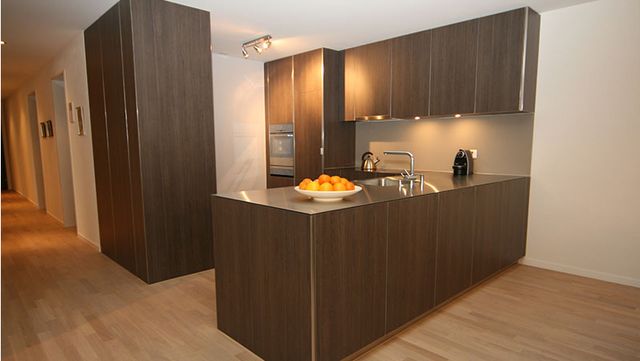 The Swiss company Bürgisser AG is an innovative enterprise with a long tradition. They specialize in custom planned, high quality kitchen furnishings. In addition, customers also receive comprehensive service and quality products from the carpentry and cabinet making shop.
Christof Bürgisser: "Our customers expect above-average quality from us, meaning that all components have to come from the CNC machines with reliable accuracy and high quality." This is the reason Bürgisser AG chose the performance package with HSK collet chucks and 6-fold tool changer. This ensures that their EVOLUTION is an extremely versatile, true CNC machining center - also for milling channels, facing, carving, etc.
Manfred Bürgisser: "As first time CNC users, we were enthusiastic about the versatility and simple macro programming of the CAMPUS/NCHops software supplied with the machine."
Universal processing with the HOLZ-HER EVOLUTION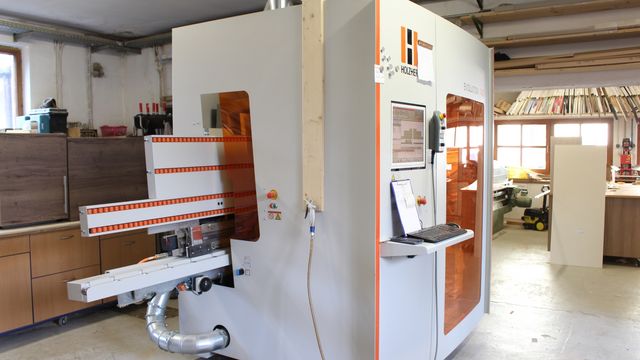 The Endl Cabinetmaking Shop in Winzer is enthusiastic: Their HOLZ-HER EVOLUTION 7405 is the perfect universal machine for processing furniture bodies:
Drilling, cutting and formating made easy!
The proprietor of the company, Roland Endl, knows many reasons why this machine has proven to be an important stanchion for the daily work process since it was purchased in 2014. Particularly the machine's minimum space requirement makes it the best alternative for medium sized shops. He was also convinced by the excellent quality of this easy-to-use machine. An important point, which supports daily business, is also the clamping concept, which does not damage the work, while allowing processing on all sides without any clamps, thus permitting complete circumferential formating, for example complete circles and discs.
In the opinion of the company proprietor the excellent support for questions regarding the application and software is also a positive factor.
Mr. Endl's final conclusion regarding his experience with HOLZ-HER is extremely positive: "The machine is ideal for processing panels - as well as for use with solid wood and our every day business is no longer imaginable without it!"