An unbeatable team: ZENTREX 6215 & STORE MASTER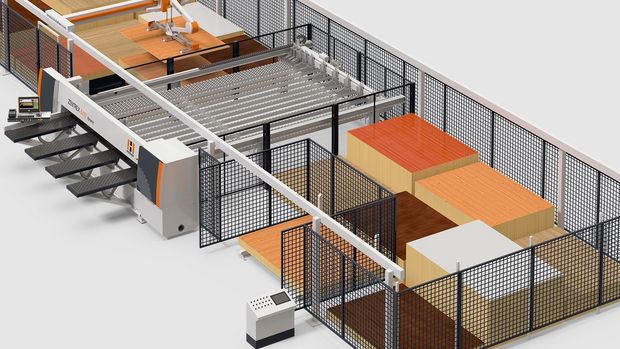 Your customers' requirements have changed. Modern society with its diverse cultural influences is reflected in highly differing tastes. Custom solutions taking people's personal lifestyle into consideration are the strength of artisans. However, economical handling, even of small lot sizes, is expected from industrial businesses today as well. This is the specific point which HOLZ-HER addresses with its saw/storage combination, comprising the STORE-MASTER system and ZENTREX 6215 dynamic.
With the trend to "one-piece flow", i.e. continuously decreasing lot sizes and custom solutions for individual customers, the HOLZ-HER STORE-MASTER system offers the perfect solution in this area for businesses of all sizes. Particularly in combination with the HOLZ-HER pressure beam saws and/or nesting CNC machines, companies get just what they need to ensure their success in the future as well.
Highlights:
Clean Protection for scoring cuts
Dust Control – for program-controlled evacuation
Laser positioning system for extreme accuracy